European Pharma 2020 Meeting &amp Hospitality
Address
Frankfurt, Germany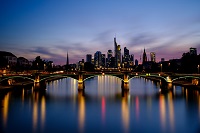 The City
4th European Congress on Pharma and Pharmaceutical Sciences is now heading towards the City of Frankfurt, Germany. 4th edition of the Euro Pharma Series is scheduled to be held on March 16-17, 2020,
Frankfurt, Germany is the largest city of German Federal state of Hesse and 5th largest city of Germany. Located in Southwestern Germany and in the neighbouring cities of Wiesbaden and Mainz, the city is a global destination for commerce, culture, education, tourism and transportation. It occupies both sides of the Main River and is year-around destination known for its trade fairs. Being the second largest metropolitan region of Germany, Frankfurt is the site of many global and European corporate headquarters including that of the European Central Bank, Frankfurt Stock Exchange, Deutsche Bundesbank, DZ Bank and other Institutes. Technology and Research, Services, Consulting, Automotive and other industries complement the economic stability of the city.
The city is a pinpoint of several educational institutions, including the UAS, and FUMPA. The city is also characterized by the eminent football clubs, museums, botanical gardens, renowned DJs and theatres.
Considered a global city - it frequently ranks in the top ten best cities to live and do business - Frankfurt has also long been an important centre for cultural and tourism activities. Its huge trade fair complex, Messe Frankfurt, hosts important events such as the Frankfurt Book Fair (the world's most important publishing event). The city is known for its exceptional number of fine museums covering art, science, and history.
Climate- In Frankfurt, the summers are comfortable, the winters are very cold and windy, and it is partly cloudy year-round. Over the course of the year, the temperature typically varies from 30°F to 77°F and is rarely below 17°F or above 88°F.The city has a temperate oceanic climate with warm summers, mild winters and rain is seen throughout the year. Snow, rain and sleet are common in winter.
Pharma Conferences in Germany | Pharma Congress Germany | Pharmaceutical Conferences Frankfurt | Toxicology Congress Germany
Directions
Route Map